A gift to her parents...
With her parents both nearing their 60th birthdays, Tokyoite Nami was puzzling over what kind of present to give them. Wanting to get something extra special, she brainstormed with her siblings and came up with the idea of a photo shoot.
Nami's parents were about to take off on a trip at the time and her family had gathered for a meal together before they left. As the meal progressed, Nami brought up the photo shoot idea and her parents responded very excitedly, mentioning that it would be perfect for their 40th anniversary and having some vacation photos would be lovely too.
The vacation spot? The place where Nami's parents spent their youth together, Kamakura. Reliving old memories and creating new ones, a photo shoot was the perfect present for Nami's parents.
Q. While choosing your parent's 60th Birthday present, was there anything in particular that you were looking for?
One's 60th birthday is quite a turning point in life so I wanted to get them an extra special present. I was looking for something they wouldn't choose themselves, something extra special and something the two of them could enjoy together. I searched all over the net but nothing really stood out. Things like food are gone as soon as you eat it, and furniture is a bit too commonplace and boring. I also didn't have enough confidence in myself to pick clothes and accessories for them (haha). So as soon as I heard about gifting photo shoots, I immediately thought "this is it!".
Q. What was the biggest reason you choose to gift your parents a photo shoot?
I thought a photo shoot for their vacation would be a great gift because they get to have both a tangible gift (photos) and an intangible one (the experience). Moreover, in my parents' younger days there weren't many pro photographers around so I thought this was definitely something they wouldn't think of doing themselves. My parents like to travel a lot and they have lots of photos that they took on their phones, but they don't have many photos together.
Why do you think they don't have many pictures together?
I wondered this too but then I thought, when I'm on a trip I want to enjoy each place for what it is and not be too absorbed in taking photos or selfies. However, when I look back at our family photos and see how there are so few photos of everyone together, much less my parents together, it makes me a little sad. As the autumn season approached I thought it would be really nice if I could persuade my parents to do a nice photo shoot, especially seeing as they were going to travel at the time, and they did it! My siblings and I thought it would be great if my parents could spend some time together, enjoy each other's company, and get some nice commemorative pictures out of it. We couldn't wait to see the photos!
Q. Did you have any concerns while booking your parent's photo shoot?
At first I wondered how anyone even goes about gifting an entire photo shoot to someone! I was also worried it wouldn't be fun for them if they were suddenly overwhelmed with deciding the photo shoot schedule, date, time, etc. However, I was really happy to find there was plenty of time to make these decisions. Once they had decided their schedule for their trip, I immediately got to work coordinating with their photographer and was in contact with them until the day of their photo shoot. I was so happy that we were able to find a photographer that could match their schedule.
Q. So you talked a lot with the photographer, were there any points in particular that you were glad about?
Yes, I talked with t_pictures up until the day of the photo shoot! It was nice because I could tell him what kind of photos we would like to see. I wondered about what kind of person t_pictures was like when I booked him, but after exchanging lots of messages via Famarry's chat function I realized he is a very enthusiastic person with a fun personality, and I was quickly put at ease.
Schedule
Here's how Nami and her siblings prepared the photo shoot, from deciding on the gift through to the photo shoot day:
| | |
| --- | --- |
| Mid September | Learned about Famarry and contacted them through the booking inquiries page, explaining what kind of photo shoot they wanted. |
| Beginning October | Gave their parents the photo shoot voucher during the birthday lunch, spoke with them about their plans and made reservations through Famarry on that same day. Received a list of the available photographers for their chosen date and location. |
| Mid October | Got in contact with their chosen photographer and started talking to them and looking through their portfolio. Confirmed the booking and made payment. |
| End of October | Nami and the photographer exchanged a lot of messages through the Famarry chat system. |
| Day before shoot | Nami introduced her parents to the photographer over the phone and they discussed where and when to meet as well as the flow of the photo shoot. |
And the photo shoot begins!
The photo shoot starts from the "Ryokan" (Japanese inn) at which Nami's parents are staying. Her parent's nervousness dissipates the more they speak to their photographer, t_pictures.
Around the streets of Kamakura
Lucky to have gotten the perfect weather for a photo shoot, the couple stroll the traditional streets of Kamakura.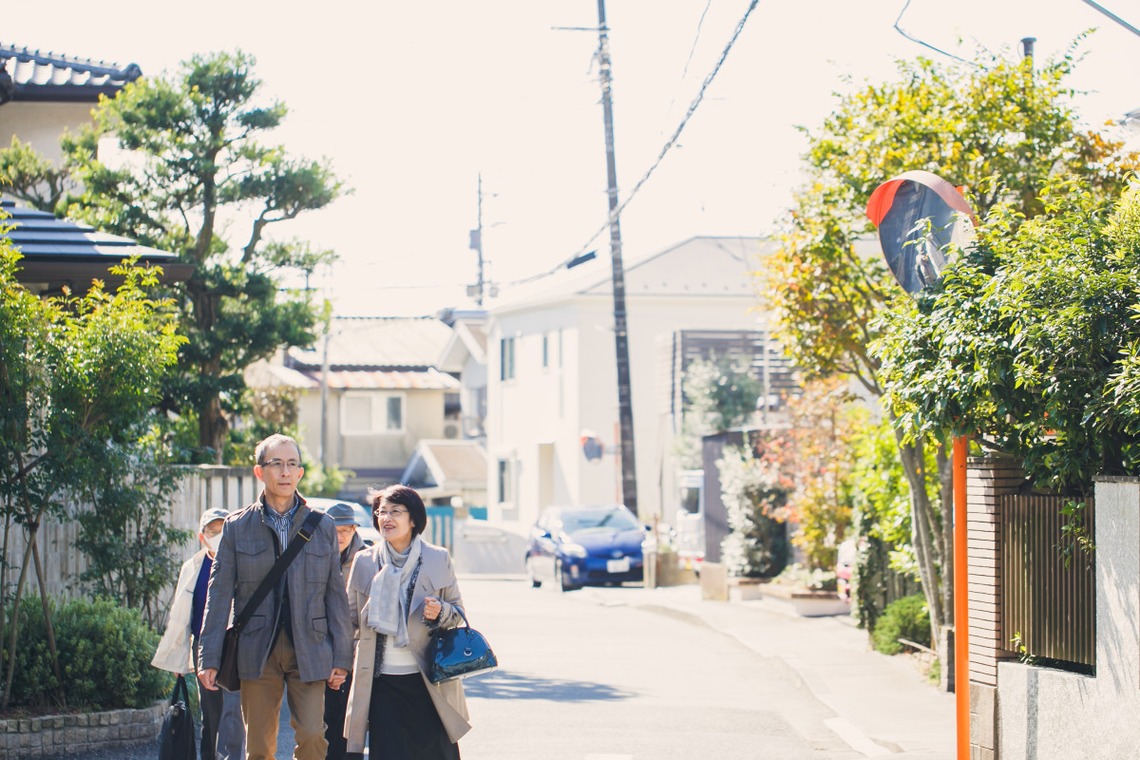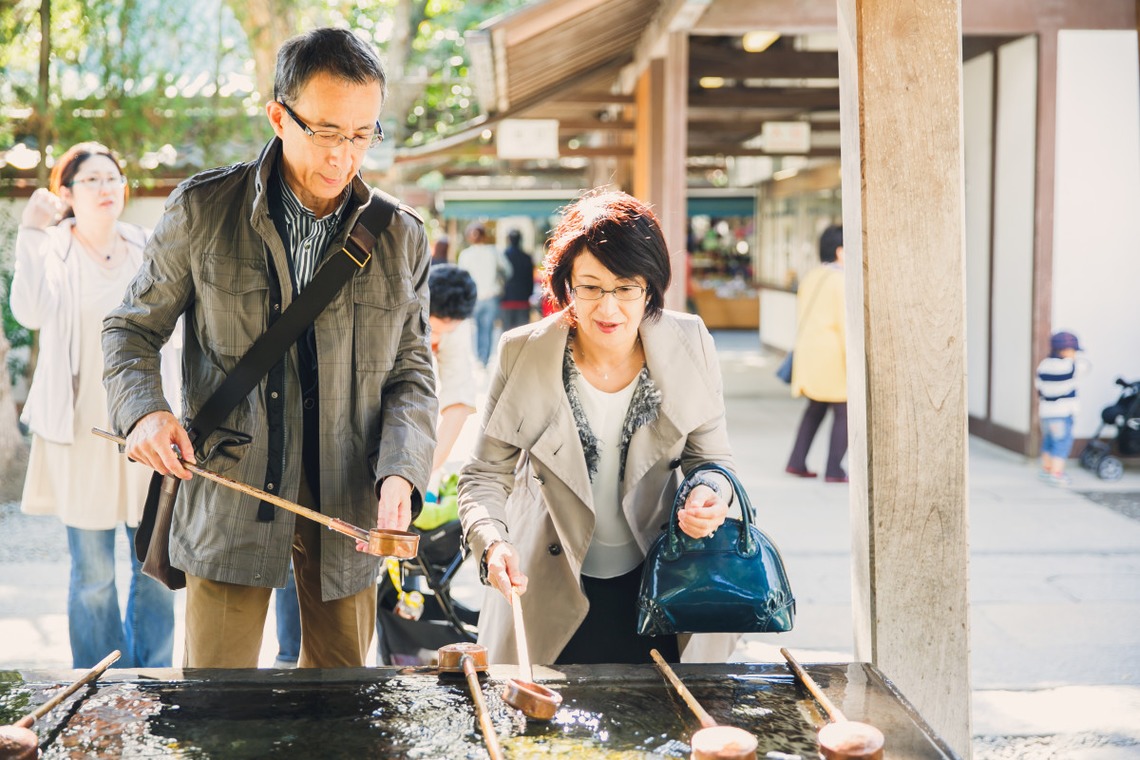 Lunch Time Photos
Their nervousness completely gone, the parents had a heart to heart chat with the photographer.
And just like that, 6 hours fly by!
The photo shoot started at 10 am and ended at 4 pm. After departing from their accommodation Nami's parents passed a rose garden, Zeniarai Benzaiten Ugafuku Shrine, Kotoku-in, Hase-dera, and many other beautiful places in Kamakura.
(The last photo is with the photographer himself!)

It was such a fun experience that Nami's parents didn't want to part with their photographer t_pictures. As if saying goodbye to a good friend, they felt a bit of sadness as they parted ways.
The gift that keeps on giving...
Nami decided to have a photo album made to present all the beautiful photos.
Her parents also loved receiving the photo album, saying "We keep flipping through the album time and time again, and still feel so happy we did the photo shoot. We would love for our photographer to do more family pictures with us in the future".
A comment from Nami's father on the photo shoot:
"Though I never met t_pictures before, we immediately clicked and got along so well. It felt like hanging out with a good friend. I hope we have the chance to meet again in the future. I am so happy with the photo shoot."
Whether for a silver wedding anniversary, gold wedding anniversary, family vacation, event, or anything in between, you can leave it to a pro photographer to capture life's special moments so you can focus on being in them.
Photo shoot location
Kamakura
Photographer

See More Testimonials!